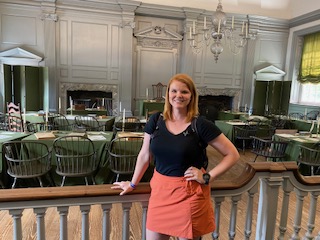 Hello everyone! I am excited about our year together! I will be teaching Human Geography CP, World History Honors, History of WWII, and History of the American Revolution, and Senior Project (in training!). Outside of class, you can find me coaching our GTCHS track team.

A little about me:

This is my second year at GTCHS, but my 7th year teaching. I graduated from Newberry College with a B.A. in History and Secondary Education and a minor in Spanish. I then earned my Master's in the Art of Teaching from Clemson University. I hold certifications in high school and middle school social studies, as well as K-12 English as a Second Language. Before becoming a teacher, I worked for the National Park Service and Walt Disney World. I love bringing these other experiences into the classroom as students explore their own possible career paths.

When I am not at school, I enjoy spending time with my family, running, hiking, biking, traveling, and studying history. I have two dogs - Arya and Miso - that also keep me busy.

Fun fact: I am a direct descendant of one of the signers of the United States Constitution - Jacob Broom (Delaware).
A Day

1A - Human Geography CP

2A - History of WWII/American Revolution

3A - Planning

Freshman Advisory

4A - Human Geography CP
B Day

1B - Human Geography CP

2B - Planning

3B - World History Honors

Freshman Advisory

4B - Senior Project
Office Hours - Wednesdays 2:50-3:30 (may vary during track season)

Email - ksmith@staff.gtchs.org

Please visit your course page to learn more! Each course has a Remind for students and parents to join for updates. You can find the code to join on your course's page.

If you are interested in more information about track, please feel free to send me an email!

**Google Classroom will be your LIFELINE for all of my classes! I will explain how I set up GC for your success. Parents are encouraged to sign up for weekly reports. These reports will show if any assignments have not been submitted.**